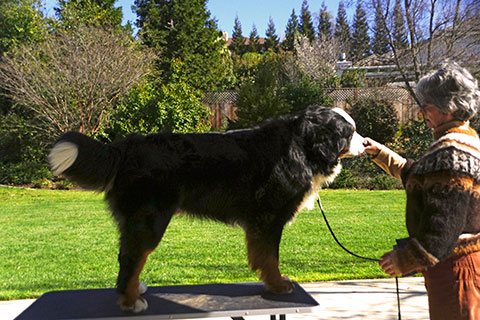 Hi my name is Gigi, I have been a registered veterinary technician since 1982. I also worked as a Nutro dog and cat food representative from 2013 to 2015.
We fell in love with Berners seven years ago when my husband and I were sitting in our gazebo and my husband mentioned to me that he would like to get his own dog. Having brought rescues home from work, everything from dogs to birds, I figured it was only fair. I brought the dog encyclopedia out to him and we flipped through the pages until we came across the perfect new family member... a Bernese Mountain Dog! I surprised him with a puppy for his birthday and there was no going back!
Rhapsody Bernese Mountain Dogs is a small kennel and all our dogs live in the house with us. We are very proud of our pack (lineages from around the world!) and love to show them off. We would love to meet you, so make an appointment and come by!
We are proud members of the Bernese Mountain Dog Club of America.
Annette wrote:
Hello,
We adopted Marlowe when she just turned 6 in December from Gigi Raymond at Rhapsody Bernese Mountain Dogs. We initially were interested in a puppy, but we just fell in love with Marlowe and were thrilled to realize she was up for adoption!
She has been such a blessing for us, she is a gentle giant from giving affection with a paw tap and the Berner lean to taking a treat so gently! She has a great temperament and is happy just sitting with us as well as walking the neighborhood and is also still quite playful.
Many thanks to Gigi for allowing us to adopt such a wonderful dog and for being supportive with any question that comes up at any time.
Annette and Paul N.
Darrell and Mary wrote:
Hello,
We just wanted to say that it was a terrific experience and we could not be happier. We are from Aurora, CO. and we were in search of a show quality puppy. It was getting very frustrating, especially being from Colorado and we could not find a puppy anywhere in the USA. Except, Gigi had a couple of male puppies left and we made a decision and purchased the puppy promptly. Gigi was extremely professional and answered all of our questions. I have shown dogs in my past and knew all of the right questions. Gigi was extremely thorough in all of her answers and made excellent recommendations in the care and feeding of our new puppy. She was always available and answered us immediately whenever we had a question. We were a little hesitant to ship the puppy to Denver International, however, my wife works at United Airlines and knew of the care United makes in shipping live animals. Gigi was also very kind to include the shipping kennel at no charge. Gigi also delivered us all of the puppy's pedigree, health certifications and AKC forms and information. My wife Mary and I would highly recommend Gigi to anyone interested in purchasing a quality Bernese Mountain Dog.
Sincerely,
Darrell and Mary
Krista wrote:
Hi Gigi,
Jeff and I wanted to reach out and give you an update on Louie, our love! Each day we love him more and more. He is weighing in at approx 70 lbs. About one month ago we decided to get Louie a daily date with a dog walker. Up until that point, Jeff had been coming home every day, mid-day since bringing Louie home. The dog walker was referred to us by a dear friend and Louie seems to like his daily interactions. Louie does really good on the walks and really well with the other dogs. He had his first hotel stay with us over this past weekend. He was an angel. He didn't care for the elevator at the beginning but warmed up to it by the end of the stay.
He gets a huge amount of attention wherever we go. The neighbors all know him by first name. We even met neighbors of my folks up in Novato. They have 2 Berners, about 1.5 yrs old. Olaf and Dexter. Boy are they big. Louie gets on really well with them. Always makes for a fun trip to Novato.
I can't believe the joy that he has brought to our family. Our girls are learning to be helpful, responsible and respectful with him. Thank you so much for providing Louie with all of your love, attention and training in his first 9 weeks. You really did an amazing job. Here are some pics of our Louie. The pic on the green grass was taken on Sunday and is the most recent.
Fondly,
Krista, Jeff, Isabella, Elisabeth and Louie
Tony wrote:
Hi Gigi,
Cody has exceeded our expectations. He is such a good natured pup. Very calm and accepting. We are not used to this after our initial experience several years ago. We expected to go very slow today, but Cody is already eating in his crate and spending small amounts of time there; able to tolerate a collar on for 5-10 minutes; not chewing everything in sight; seems to be following some simple commands…We shall see what tonight and the next week has in store. He already seems fairly well socialized. You have done a great job with these pups. Thank you for all the time and effort and love you pour into these precious companions. We have a very loving and caring family and will take good care of him for you.
Thank You,
Tony
Carmela wrote:
Hi Gigi,
Hope this email finds you well! We can't believe 2 weeks have already gone by. We've been meaning to send this for the past couple of weeks, but as you can imagine we've had our hands full with our fluffy baby berner whom we've named Winston :)
THANK YOU so much from the bottom of our hearts for the opportunity to add literally the most perfect berner puppy to our family. He's been nothing but an absolute bundle of joy, love, and fluff! We promise to keep in touch and send you pictures as he continues to grow. We already can't believe how much he's grown since we first picked him up :)
Warmest Regards,
Carmela & Michael